3 Weeks Pregnant
Week three of pregnancy is a very big week. It is usually when ovulation and fertilization occurs. Although it is an extraordinary time, you most likely will not even know you conceived at first.
What's happening with your body?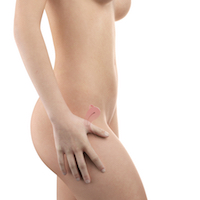 You may have been tracking your ovulation and timing intercourse to increase your odds of conceiving, or you might have taken a more laidback approach to becoming pregnant. Either way, week three is probably when you officially became pregnant!
Although you already know how you conceived, it's interesting to learn exactly how complex fertilization is. Millions of sperm are in an average ejaculation, but fertilization involves one lucky swimmer, which made it all the way up to the fallopian tube and located your egg.
The sperm penetrated the outer membrane of your egg. The result is a fertilized egg, which is also called a zygote. The fertilized egg forms a barrier around it to prevent other late coming sperm from also trying to burrow through the egg. That's why only one sperm can fertilize an egg.
A lot is going on inside your body, but you're unlikely to feel any different. Although some women say they knew the moment they conceived, that's most likely intuition and not due to feeling physically different.
But one thing is for sure, hormonal changes will soon be occurring that will be responsible for supporting your pregnancy and causing pregnancy side effects that you may have heard about.
During week three of pregnancy, one hormonal change is an increase in progesterone. What happens is the corpus luteum, which is the follicle that released the egg, collapses after the egg goes on its way. The corpus luteum produces progesterone, which supports your pregnancy and nourishes your baby until the placenta develops and takes over.
If you suspect you have conceived, you may be anxious to take a pregnancy test this week. But home pregnancy tests are usually not sensitive enough to be accurate a few days after conception. So if you do take a test and it is negative, wait another week or two and test again.
What's happening with your baby?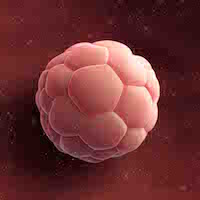 Once fertilization takes place, the zygote starts to quickly undergo many cell divisions. In fact, each cell divides about every 14 hours, which means your little one is growing fast.
By the time it starts to make its journey from the fallopian tube to the uterus, the zygote has divided multiple times and is about 100 cells. Your little one has a long way to go before he or she is ready to be born. But a lot about your baby has already been determined. That's because the fertilized egg already has 23 chromosomes from dad and 23 from you for a total of 46 chromosomes.
Those 46 chromosomes contain DNA and genes that determine many of your baby's characteristics. For example, the color of your baby's hair and eyes, along with gender are already determined once the egg is fertilized. Since half of the DNA is from you and the other half from dad, you'll have to wait another nine months before you find out which traits your baby inherited.
Things to keep in mind:
Although you are technically eating for two, you don't need any additional calories just yet. But what you do need is to eat a variety of healthy foods that will provide your baby with the nutrition that he needs throughout your pregnancy.
It's best to start early making healthy dietary choices. For example, if you are a caffeine addict, you may want to cut back. Too much caffeine is linked to an increased risk of having a low birth weight baby. Plus caffeine crosses the placenta. If you are having your morning espresso, you'll baby will feel the effect too, which can disrupt your baby's normal movement patterns.
So how much is too much? Some doctors advise pregnant women to limit caffeine to less than 300 milligrams a day. The good news is, you can probably safely still have one cup of coffee a day, but it's always best to talk to your doctor.
It's also advisable to limit over the counter medication, such as pain relievers, cough medicine and allergy pills until you talk with your doctor and determine what is safe. As far as prescription medication, don't stop taking it until you're advised by your healthcare provider.