30 Weeks Pregnant
You are just about three quarters through your pregnancy, which may be hard to believe. Although you want to keep your little bun in the oven a bit longer, if your baby was born at 30 weeks he has a very good chance of being OK, which is comforting to know. If you have not set up you baby's room, you might want to get started. In a few weeks, you will likely be a bit more uncomfortable, and you'll be glad you have things ready.
What's happening with your body?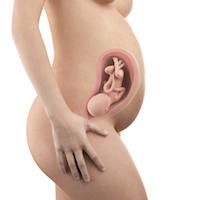 At this point in your pregnancy, you may feel more of the same. If you felt great so far, you may continue to do so. If you experienced typical third-trimester side effects, such as leg cramps, heartburn and constipation, symptoms might continue or even become a little worse. Continue to eat a healthy diet, drink lots of water and get a little exercise.
Unless you have experienced complications, you probably can continue to exercise, although you might have to modify some activities. Exercise can help with constipation, fatigue and fluid retention.
With only a few months to go, you're probably used to the ups and downs of pregnancy. Some days you might be feeling energetic and excited and other days you're uncomfortable and anxious. While everyone's mood fluctuates, mood swings may occur more frequently during pregnancy.
You might have experienced mood swings in your first trimester, and they may have leveled off later on. But mood swings may reemerge during your last trimester. Between feeling uncomfortable, hormonal changes and anxiety about labor, it's no wonder your moods may fluctuate.
Ups and downs are common, but if you experience depression, it's important to talk to your healthcare provider. Symptoms of depression include sadness, loss of interest in activities, anxiety and loss of appetite. Depression affects about ten percent of pregnant and postpartum women. If left untreated during pregnancy, depression can lead to low birth weight and premature labor.
What happening with your baby?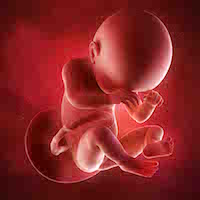 Your baby is about three pounds and the size of a head of lettuce. Although all of your baby's organs are developed, ideally he needs more time inside to fine-tune all his systems.
One system that is developing rapidly is your baby's brain. You probably already know your baby is going to be a genius. But at 30 weeks, physical changes in her brain are making her smarter. Up until this point, her brain tissue was smooth. But now her brain has developed wrinkles or folds, which is thought to play a role in increased neuron development.
This week also brings a few more changes. Your baby's head and limbs are all proportional now, and she continues to gain more muscle control. A couple of weeks ago, your baby's liver was making red blood cells. But now her marrow has taken over the important role of red blood cell production, which is essential once she is born.
Things to keep in mind
If you are starting to buy baby gear, one thing you need to consider is where your baby will sleep. Some parents prefer to have their newborn in bed with them or in a bassinet next to the bed. When you're getting up every few hours to feed your baby, it's convenient to have him close.
Other parents choose to put their baby in their nursery right from the start. For some parents, it might be nice to have a little space to themselves. Plus, it trains your baby to sleep in his room early.
Some doctors don't recommend sleeping in the same bed as your newborn. The concern is your baby could get too hot under or around your bedding, and overheating is a risk factor for sudden infant death syndrome.
If you prefer to have your baby next to you, consider a co-sleeper, which is a bassinet that attaches to your bed.  A co-sleeper allows your baby to have his own little separate space but still be an arm's reach away.
A stand-alone bassinet is another option. It does not attach to your bed, but it is smaller than a crib and may fit in your bedroom and keeps your baby nearby.
Keep in mind, the best sleeping arrangement is the one that works for your family. If you have any concerns about which sleeping arrangement is safest for your baby, talk with your doctor.